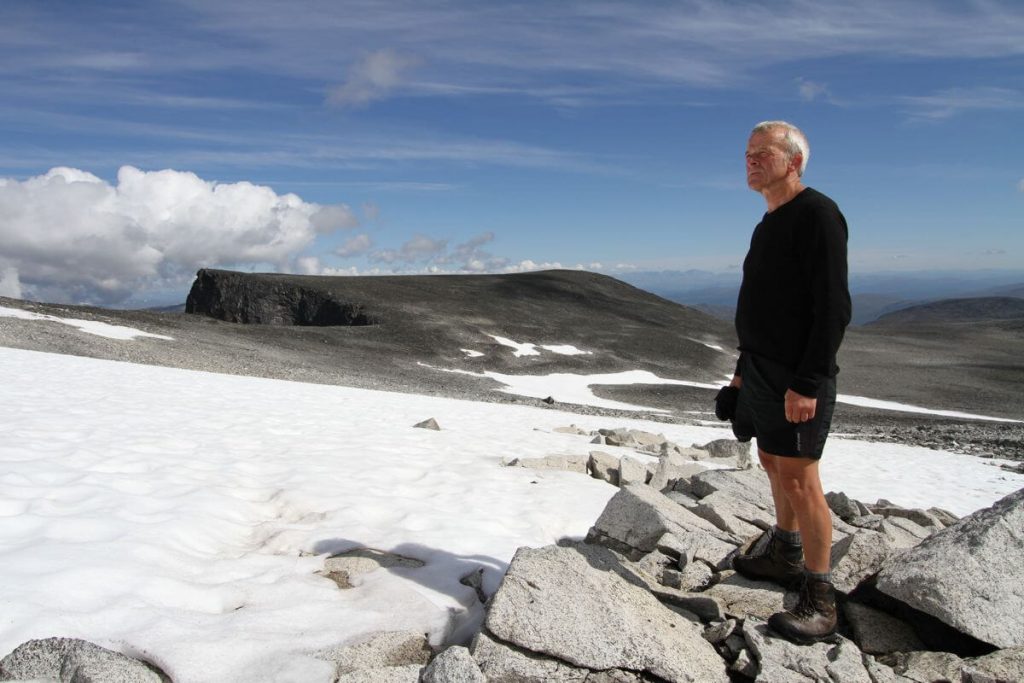 Reidar standing at the edge of one of our ice patches in northeast Jotunheimen.
Photo: Espen Finstad, secretsoftheice.com.
One member of the Secrets of the Ice team is not a professional archaeologist. Reidar Marstein is a hobby archaeologist from Lom. Why is he a core member of the team? Well, there are a number of reasons for that, but the main reason is that without him, glacier archaeology here in Oppland would have looked very different.
In the early 2000's, Reidar noticed that the ice patches in the northeastern part of the Jotunheimen Mountains were getting smaller. He thought there was a chance that artifacts could emerge from the melting ice. Reidar explains what happened next:
"2006 was a special year for ice patches and glaciers in our high mountains. The summer was warm, and autumn continued with high temperatures into October. We had never witnessed a melt like that. The ice patches and glaciers were smaller than we had ever seen before.
I hiked up to the ice patches every week this autumn. It was my visit on September 17 that became the greatest adventure. I started early in the morning and reached the Langfonne ice patch around 9 am. It was unbelievable how much the ice patch had melted just during the last week. With great excitement, I started my survey around the ice. It had to have been a long time since the last human set foot here.
Read the rest of this article...