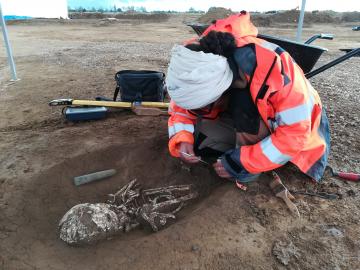 À Ensisheim (Haut-Rhin), l'Inrap et Archéologie Alsace fouillent des campements de chasseurs-cueilleurs et une importante nécropole néolithique. Les vestiges s'échelonnent de 10 000 à 350 avant notre ère.
De fin août 2019 à mai 2020, les archéologues de l'Inrap et d'Archéologie Alsace réalisent, en groupement, une fouille archéologique sur prescription de l'État, à Ensisheim et Réguisheim (Haut-Rhin). Cette opération déployée sur 9,5 hectares est menée en préalable à la quatrième phase d'aménagement
du Parc d'activités de la Plaine d'Alsace porté par la Communauté de communes du Centre Haut-Rhin.
Read the rest of this article...