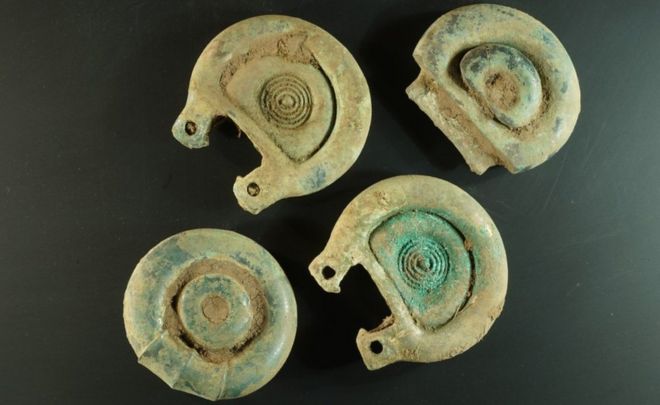 Items believed to be pieces of the Bronze Age harness were also found
A metal detectorist was left "shaking with happiness" after discovering a hoard of Bronze Age artefacts in the Scottish Borders.
A complete horse harness and sword was uncovered by Mariusz Stepien at the site near Peebles in June.
Experts said the discovery was of "national significance".
The soil had preserved the leather and wood, allowing experts to trace the straps that connected the rings and buckles.
This allowed the experts to see for the first time how Bronze Age horse harnesses were assembled.
Mr Stepien was searching the field with friends when he found a bronze object buried half a metre underground.
He said: "I thought 'I've never seen anything like this before' and felt from the very beginning that this might be something spectacular and I've just discovered a big part of Scottish history.
Read the rest of this article...