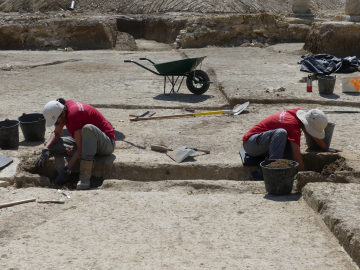 À l'ouest du centre-ville de Nîmes, l'Inrap vient de mettre à jours des vestiges de l'âge du Fer à l'Antiquité ; sépultures, champs et voirie.
Sur prescription de la DRAC Occitanie, une fouille préventive menée par l'Inrap s'est déroulée de mai à août 2020, à l'ouest du centre-ville actuel de la ville de Nîmes, préalablement à la construction d'un immeuble d'habitation.
DES TOMBES GAULOISES
La découverte principale de cette opération est un ensemble funéraire en bon état de conservation dont l'emprise s'étend au-delà des limites de la fouille. Daté entre les VIe et Ve siècles avant notre ère, cet ensemble comprend trois sépultures à incinération, deux vases ossuaires en céramique grise monochrome et un dépôt de résidus en fosse. Le mobilier métallique associé, couteaux et fibules, indique qu'il s'agit pour deux d'entre elles de personnages appartenant à la sphère masculine.
Read the rest of this article...