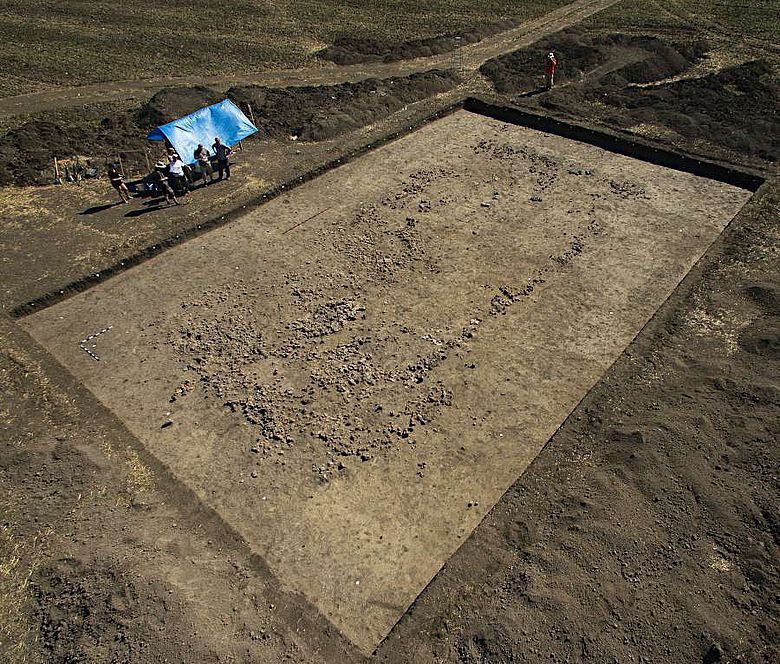 Kupferzeitliches Versammlungshaus nach der Freilegung: In einem offenen Hof und einem angrenzenden, überdachten Gebäudeteil fanden eine Vielzahl unterschiedlicher integrativer Aktivitäten statt. (© SFB 1266)
Ein ukrainisch-deutsches Forschungsteam sieht in undemokratischen Entscheidungsstrukturen und der Bündelung von Macht die vermutliche Ursache für den Zusammenbruch der ältesten vorstädtischen Großsiedlungen Europas um 3.700 vor Christus.
Zwischen 5000 und 2700 vor Christus breitete sich in Osteuropa auf dem heutigen Gebiet der Ukraine, Moldawiens und Rumäniens die sogenannte Tripolye-Kultur aus und schuf die größten bekannten Siedlungen dieser Zeit in Europa: sogenannte Megasiedlungen mit bis zu 15.000 Einwohnern, die sich über Flächen von bis zu 340 Hektar erstreckten.
Staatliche Strukturen waren zu dieser Zeit unbekannt und so wirft die Größe dieser Siedlungen viele Fragen bezüglich ihrer gesellschaftlichen Organisation auf: Wie liefen Entscheidungsprozesse ab? Gab es gesellschaftliche Unterschiede, demokratische Prozesse, Führer? Insbesondere bewegt die Wissenschaft aber die Frage, warum die Siedlungen nach nur wenigen hundert Jahren wieder verschwanden.
Read the rest of this article...