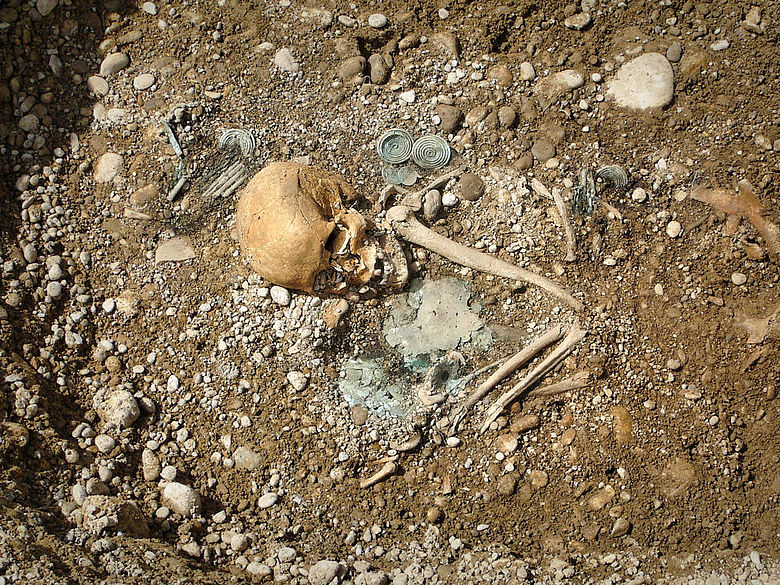 Hochrangige und nicht-lokale Frauenbestattung aus Kleinaitingen »Gewerbegebiet Nord«. Der Kopfschmuck und der Bestattungsritus spiegeln die lokalen Traditionen wider, aber die Isotopenwerte zeigen die fremde Herkunft. Diese Bestattung einer Frau ist eine der reichsten bekannten Bestattungen Süddeutschlands. Foto: © ABK Süd
Das archäologisch-naturwissenschaftliche Projekt an der Heidelberger Akademie der Wissenschaften wurde von Philipp Stockhammer von der LMU in München zusammen mit Johannes Krause und Alissa Mittnik vom Max-Planck-Institut für Menschheitsgeschichte in Jena und der Universität Tübingen geleitet. Die Ausgrabungen südlich von Augsburg ermöglichen es den Archäologen, auf bislang ungeahnte Weise tief in die Bronzezeit herein zu zoomen und zu untersuchen, wie sich der Umbruch von der Steinzeit zur Bronzezeit auf die Zusammensetzung der damaligen Haushalte auswirkte. »Reichtum korrelierte entweder mit biologischer Verwandtschaft oder Herkunft aus der Ferne. Die Kernfamilie vererbte ihren Besitz und Status weiter. Aber in jedem Bauernhof haben wir auch arm ausgestattete Personen lokaler Herkunft gefunden«, sagt Philipp Stockhammer, Professor für Prähistorische Archäologie an der LMU und einer der Leiter der Studie. Dieser Befund spricht für eine komplexe Sozialstruktur von Haushalten, wie sie aus dem klassischen Griechenland und Rom bekannt ist. So waren zu römischer Zeit auch die Sklaven Teil der Familie, hatten aber einen anderen sozialen Status. Aber diese Menschen im Lechtal lebten über 1.500 Jahre früher. »Das zeigt erstmals, wie lang die Geschichte sozialer Ungleichheit in Familienstrukturen zurückreicht«, so Stockhammer weiter.
Read the rest of this article...