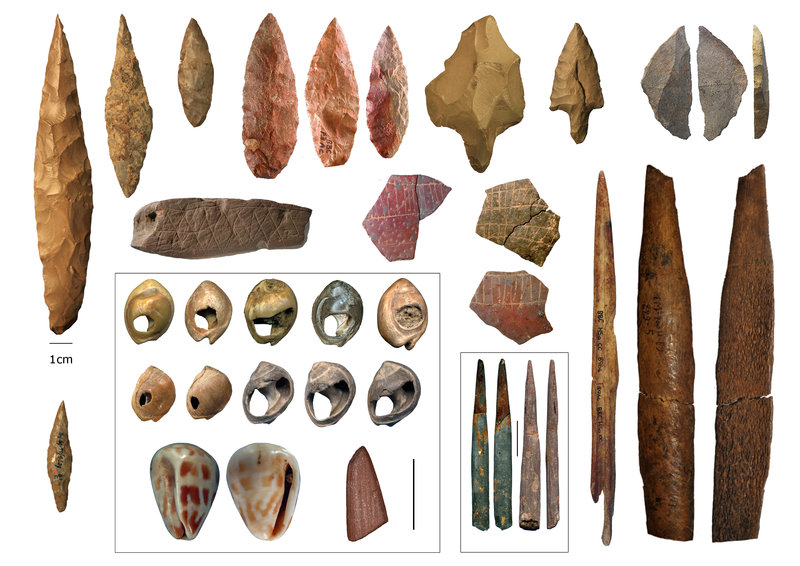 Artefakte aus der Mittleren Steinzeit, die im Norden und Süden des afrikanischen Kontinents gefunden wurden. Bild: Eleanor Scerri/Francesco d»Errico/Christopher Henshilwood
Während allgemein anerkannt ist, dass der moderne Mensch seinen Ursprung in Afrika hat, wurde der Frage, wie sich der Mensch innerhalb des Kontinents entwickelt hat, bislang wenig Aufmerksamkeit geschenkt. Vielfach ging man davon aus, dass die frühen Vorfahren des Menschen als eine einzige, relativ große Bevölkerungsgruppe entstanden sind, welche Gene und Technologien, wie die Herstellung von Steinwerkzeugen, mehr oder weniger zufällig untereinander austauschten.
In einer diese Woche in Trends in Ecology and Evolution veröffentlichten Studie eines wissenschaftlichen Expertenteams unter der Leitung von Eleanor Scerri, Wissenschaftlerin an der British Academy der Universität Oxford und am Max-Planck-Institut für Menschheitsgeschichte in Jena, wird diese Sichtweise nicht nur durch die Untersuchung von versteinerten Knochen (Anthropologie), Steinwerkzeugen (Archäologie) und Genen (Populationsgenetik) in Frage gestellt, sondern auch durch neue und detailliertere Rekonstruktionen von Afrikas Klimazonen und Lebensräumen während der letzten 300.000 Jahre
Read the rest of this article...