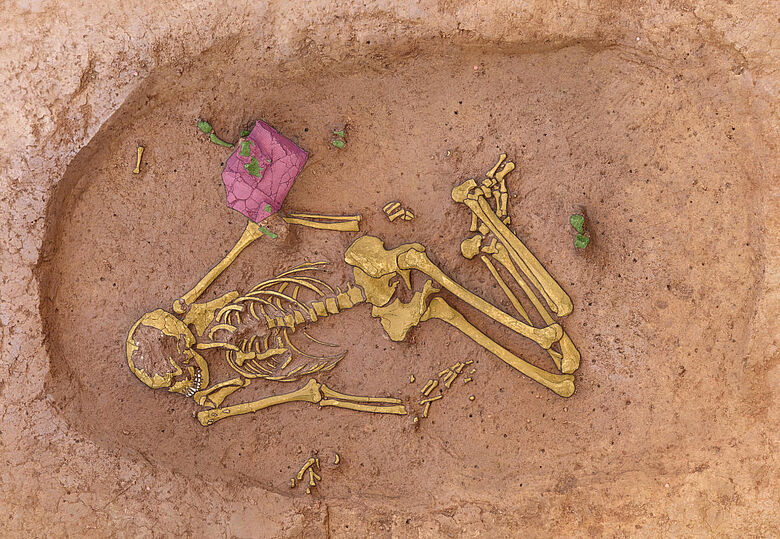 Bestattungen des Endneolithikums und der Frühbronzezeit, wie dieses vor wenigen Jahren in Heilbronn entdeckte Hockergrab der Schnurkeramik, standen im Fokus der Biodistanzanalysen.
Bild: © Landesamt für Denkmalpflege im Regierungspräsidium Stuttgart
Das Landesamt für Denkmalpflege, Senckenberg und die Eberhard Karls Universität Tübingen haben eine neue Methode zur menschlichen Zahnanalyse getestet, um umfassendere Einblicke in die Populationsgeschichte Südwestdeutschlands von der ausgehenden Steinzeit bis zur frühen Eisenzeit zu gewinnen. Die Studie konzentriert sich auf die Untersuchung von Zähnen in menschlichen Bestattungen.
Mit der neuen Analysemethode namens FLEXDIST können genetisch bedingte Ähnlichkeiten und Unterschiede zwischen Individuen anhand spezifischer Zahnmerkmale ermittelt werden. Diese Merkmale, wie beispielsweise die Anzahl und Größe der Höcker von Backenzähnen, sind vererbbar und liefern Aufschluss über die Biodistanz, also die Ähnlichkeit zwischen Individuen. Die Analyse der Zähne kann somit mit genetischen Untersuchungen verglichen werden.
Read the rest of this article...