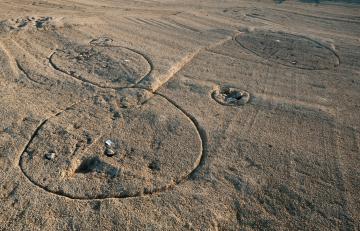 Les fouilles préventives du site des « Hauts de Lattes » s'inscrivent dans la poursuite de l'aménagement de la « Zac Ode Acte 2 », dans le cadre du projet urbain Ode à la Mer qui s'étend depuis la Lironde jusqu'au Parc des Expositions, sur les communes de Lattes et de Pérols.
8 HECTARES DE FOUILLES SUR LE SITE « HAUTS DE LATTES »
À la suite d'un diagnostic archéologique réalisé fin 2015 - début 2016, l'État (Drac Occitanie) a prescrit la réalisation d'une fouille préventive de 8 hectares, situés à l'extrémité nord de la « butte de Pérols », entre la vallée de la Lironde et l'étang de l'Estanel. La SA3M ( Société d'Aménagement de Montpellier Méditerranée Métropole), ainsi que deux autres maîtres d'ouvrage (les sociétés Pitch Promotion et Pégase Immobilier) ont choisi de confier ces recherches à l'Inrap, qui s'est associé au service archéologique de la SAM (Sète Agglopole Méditerranée) pour cette opération.
Read the rest of this article...